Reactive Organic Gasses
Reactive organic gases (ROG) undergo a series of reactions to form radicals.
The alkylperoxy radical (RO2*) reacts with and oxidizes NO to form NO2 faster than NO reacts with O3 to produce the same result.
Thus, when ROGs are present, it is likely that O3 will not be destroyed to produce NO2, and the null cycle is broken.
Note that each time an NO2 molecule is formed (by whatever method), it very quickly results in the production of O3 (via photo dissociation and a recombination).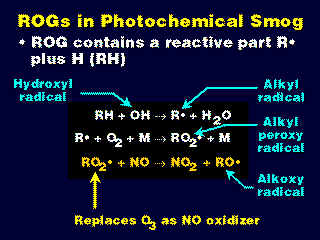 recall the null cycle: